The Subterranean King (地底王, Chitēō) was the king of the Subterranean People. He led his people from below the crust to conquer the surface above. He was killed by Saitama.[2]
Appearance
[
]
Like the Subterranean People, the Subterranean King had a humanoid appearance but was about double the size of the average human being. He was covered with black, armor-like pieces, with blue lava running in the space between them. He had three narrow eyes and four arms, each with three fingers. In each of his hands, he carried a red magma blade.
In the manga, his armor was brown in coloration with yellow/reddish magma swimming through his body which matches the commonly known colors of an active volcano. His blades also have the same color as magma.
Personality
[
]
The Subterranean King seemed to be rather confident in his abilities but was defeated almost instantly.
Plot
[
]
Saitama has a dream where he is attacked by the Subterranean People, and after a hard battle where he defeats them all the Subterranean King shows up for one last fight. Right before they start to fight, Saitama's dream ends. Upon waking up Saitama notices that the Subterraneans truly have shown up, and leaps at a chance to fight them. However, when the Subterranean King does show up he is defeated instantly and his people surrender and scamper back underground.[3]
Abilities and Powers
[
]
Nothing is known of the Subterranean King's powers due to his quick death but it is presumed that he possessed some skill in swordsmanship since he wielded four swords in battle. He is on the same level as the Deep Sea King and the Sky King.[4] He was the ruler of an army of powerful subterranean Mysterious Beings.
Fighting Style
[
]
Swordsman: Given his choice of weapons, the Subterranean King likely has some swordsmanship skills. It is unknown how skilled he actually is, due to his quick death at the hands of Saitama.
Equipment
[
]
Swords: The Subterranean King carries four very large flaming swords, one for each arm. His swords emit a powerful lava-like substance and each cleave cuts and burns his enemies.[1]
Major Battles
[
]
Trivia
[
]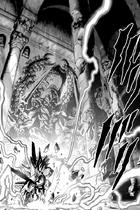 The Subterranean King is the first of many "kings" mentioned in the series, the others being the Beast King, the Deep Sea King, the Ancient King, the Sky King, King of the Underworld (anime-only), the "second Sea King", the Monster King, and the Forest King.
In the initial version of Chapter 102, during the fight between Child Emperor and the resurrected Phoenix Man, a wall sculpture of the Subterranean King is seen, along with two centipedes (or two extremities of one centipede) encircling him and the Earth.[5] This was not shown in the redrawn chapter. It may have been a hint to Sage Centipede.
The Subterranean King makes an appearance under a sweet potato monster on the cover of chapter 55.
References
[
]
[

]