Pig God vs. The Great Food Tub was the battle between the S-Class hero Pig God and the Demon-level mysterious being The Great Food Tub of the Monster Association.
Pig God wanders through the labyrinth of the Monster Association, eating snacks he packed along the way, and eventually comes across The Great Food Tub.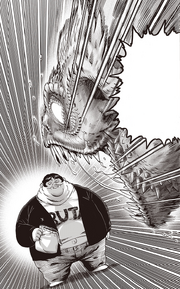 The Great Food Tub says he's been waiting for a while, and notes how Pig God is a voracious eater himself. For him, it will be the perfect snack. He goes on to monologue about his title as The Great Food Tub, an all-consuming gluttonous monster who leaves nothing behind. He declares to swallow all the heroes whole, and prepares to consume Pig God. However, Pig God counters, grabbing the monster and forcing him down his throat. The Great Food Tub tries to resist, frantically wailing and waving his tail, although it is no use.
While Pig God is trying to digest the monster, Atomic Samurai's three disciples come across this. They are shocked by what they are witnessing, and Iaian wonders how is it even possible for Pig God to consume such a large monster, believing it to somehow be impossible by the laws of physics. Bushidrill, equally shocked, remarks that this was something they were not meant to see. Iaian agrees, and the three retreat to find another way in, leaving Pig God alone to finish digesting his newest meal.
Aftermath
Edit
After Pig God swallows The Great Food Tub, it takes a moment for him to fully digest the monster, and once he does, Pig God continues wandering through the maze of the Monster Association Headquarters.
The Great Food Tub is another example of an ironic death, as he is a monster bent on consuming everything but is consumed himself by another glutton. Some other examples of monsters with ironic deaths are Phoenix Man and Do-S.
Atomic Samurai's disciples do not witness Pig God eating The Great Food Tub in the webcomic.
Community content is available under
CC-BY-SA
unless otherwise noted.