Pig God (豚神, Butagami) is the S-Class Rank 10 professional hero of the Hero Association.
Appearances
Pig God is a large, obese man with several layers of fat, short black hair and big lips. He wears a long-sleeved black shirt, blue jeans and another shirt underneath that's white with red text saying "DEV.". Later on he is seen with a different shirt on that says "BUTA", which means 'Pig' in Japanese.
Personality
He appears to be a glutton, as he was constantly seen eating during the S-Class meeting. He is also very direct, or simply lazy, as he crashed through a building rather than go around it and speaks in a blunt fashion. However, he is a very caring individual. He went out of his way to rush to Child Emperor's assistance even though he does not like to run. He was shocked to learn of Drive Knight's disappearance and voiced out that he really hopes Drive Knight is alright.
Abilities and Powers
Not much is known of Pig God's abilities. However, since he is an S-Class hero, it can be assumed that he is extremely powerful. Like other heroes of that class, he is able to defeat a Disaster Level Demon Mysterious Being on his own, as he proved with his swift and effortless victory against Eyesight. However, he was unable to defeat Dragon-level monsters such as Gums, and was defeated in a single blow from Awakened Garou.
Physical Abilities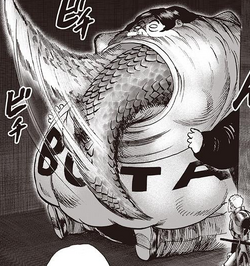 Inhuman Digestive System: Pig God has the ability to digest swallowed monsters almost instantly.[2]
Venom Immunity: Pig God was immune to Eyesight's venom as the immense amount of fat prevented the venom from getting to his blood vessels.[3]
Elastic Body: His body can expand greatly without tearing apart or bursting open. This allows Pig God to consume monsters much larger than himself. This is first seen when eating Eyesight, as he managed to stuff her into his mouth by stretching his lips very wide. This is again seen when he's in the process of consuming The Great Food Tub, a monster much larger than him. Pig God's body bulks up due to the monster's larger size without any visible signs of pain.
| | |
| --- | --- |
| | The following section contains Webcomic spoilers. You have been warned, manga-only readers. |
Fighting Style
Hero Rating
Pig God's rating determined by the Hero Association[1]:
Quotes
"Action speaks louder than words"[1]
Trivia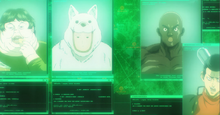 Pig God appeared in Dr. Genus' computer screen in the House of Evolution.
The God appellation was given by the Hero Association after they heard of his impressive description as that of a vindictive god.[1]
References
Community content is available under
CC-BY-SA
unless otherwise noted.