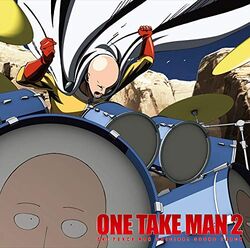 One Take Man 2 is the soundtrack album of the second season of One-Punch Man anime series. It was released on July 24, 2019 and published by Lantis and distributed by Bandai Visual. The soundtrack was composed by Makoto Miyazaki, Ricardo Cruz, and Yuki Honda.[1]
Track listing
Edit
Seijaku no Apostle (TV Size)
Beginning
I'm a Monster
Saikyo no Ichigeki
Disquieting
Appear
Accept Battles
Rapid Speed
Seigi Shikkou ~Strings quartet~
Imminent
Genos Fights
I Wanna be Stronger
Usual Life
Metal Bat
The Wall
I'm a Hero
Fun Fun Fun
Fun Fun Fun ~slow~
Slide E
Longing
No Escape
Fake Star
Strong Enemy
Fubuki
Hero Kyoukai
Fear
Impending Disaster
Storm
Seigi Shikkou ~pf ver.~
Tank Top
Martial Arts
Despair
Never Wnd
Face-to-Face
Crash
A Silent Protest
Emotion
Gone
Seigi Shikkou Dai ni Geki
Chizu ga Nakute mo Modoru Kara (TV Size)
Artist credits
Edit
Composed by Makoto Miyazaki, Ricardo Cruz, Yuki Honda
Arranged by Makoto Miyazaki, Yuki Honda
Performed by JAM Project, Makoto Furukawa
Lyrics by Yukinojo Mori, Aki Hata
References
Edit
Community content is available under
CC-BY-SA
unless otherwise noted.