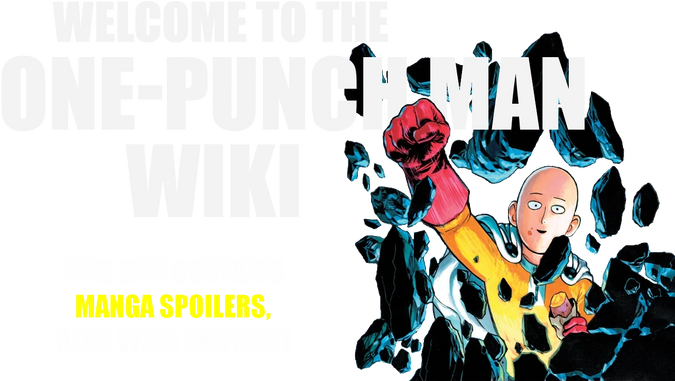 ---
Navigation
Administrators • New Photos • New Pages • Categories • Help Wiki • Editing Guideline • Citing • Discord Chatroom
One-Punch Man (ワンパンマン Wanpanman) is a Japanese webcomic, manga, and anime series created by ONE. The webcomic started in July 2009, with more than 100 million total views and 20,000 hits per day. Sheuisha's Young Jump Next picked up the series, as well as commissioned Yusuke Murata, (known for Eyeshield 21) to draw the series with the original writer, ONE. Please feel free to contribute to our site and help us complete our goal to build the most informative site for everything related to ONE and Murata and their manga, One-Punch Man.
Please be sure to thoroughly read the Rules and Guidelines before you begin editing. We use the One-Punch Man Manga timeline for our edits. Please ensure that all Webcomic related spoilers are hidden within the spoiler tags.
Thank you all for visiting and contributing to the One-Punch Man Wiki. With everyone's help, the wiki now has 1,449 articles and 8,665 files.
For those who want to write their own fanfic, there is a separate wiki for all kinds of One-Punch Man Fanfiction: One-Punch Man Fanon

An enigmatic entity referred to as
God
(神, Kami) by
Homeless Emperor
.

If you would like to become an affiliated site, contact Spartan1204 or Bookkeeper83.