Marshall Gorilla (マーシャルゴリラ, Māsharu Gorira) is a Monster Association monster that is assigned to attack W-City.
Appearance
[
]
Marshall Gorilla is a buff gorilla with a scar on his left eye who wears a white beret with a banana pin affixed to it. He wears his holster over his black t-shirt and has many bananas attached to it. The bananas on his t-shirt are actually containers for his cigars; in the anime, this was changed where they are actual bananas. He also wears camouflage pants with black knee pads and black combat boots.
Personality
[
]
Marshall Gorilla is confident in his abilities, but still seems rather grounded in what his capabilities are.[1] He is also very arrogant to the point that he demands the Hero Association to raise his threat level from Tiger to Demon or else he will keep attacking A-class heroes. He also despises monsters who take on a human lifestyle, especially if they are ape monsters.
Plot
[
]
In W-City, Heavy Kong has been struggling against Marshall Gorilla for 15 minutes.[2] Marshall Gorilla eventually defeats Heavy Kong without receiving any injuries.[3] Later, he is shown to demand the Hero Association to raise his threat level from Tiger to Demon or else he will keep attacking A-Class heroes in the street.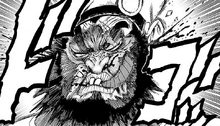 While being trailed by S-Class Hero Zombieman, he encounters Armored Gorilla. Thinking he was a pro hero, Marshall shouts in order to get Armored Gorilla's attention, only to be surprised to see that the latter was a gorilla too. After hearing that Armored Gorilla has apparently sided with humans, Marshall Gorilla attacks him with Banana Slash, which Armored Gorilla immediately counters with a punch to the face, knocking Marshall out cold.[4]
Abilities and Powers
[
]
As a Tiger level threat, Marshall Gorilla is a threat for the lives of a great number of people. He was able to defeat Heavy Kong, an A-Class hero, decisively. Despite this, he is no match for Armored Gorilla, who beat him in one punch. This would suggest that he is stronger than the average Tiger-level threat, but still not strong enough to be classified as a Demon-level threat.
Fighting Style
[
]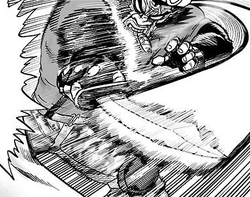 Gorilla Style Knife Skill (ゴリラ流ナイフ術, Gorira-ryū Naifu-jutsu): Marshall Gorilla's fighting style, which involves a knife slashing technique.
Banana Slash (バナナスラッシュ, Banana Surasshu): A simple knife slashing technique. Marshall Gorilla strikes his opponent with his knife.[5]
Equipment
[
]
Combat Knife: Marshall Gorilla wields a knife during battles and is presumed skilled in wielding it. The knife was shattered upon his attempt to kill Armored Gorilla.
Major Battles
[
]
References
[
]
[

]