Hundred-Eyes Octopus (百々目蛸, Dodome Dako; Viz: Multi-Eyed Octopus) was a Demon-level Mysterious Being and a member of the Monster Association. It was killed by Tatsumaki.[1]
Appearance
[
]
Hundred-Eyes Octopus was a giant octopus-like monster with numerous eyes on its body. Several more eyes were concealed within each of the suckers on its tentacles.
Plot
[
]
Hundred-Eyes Octopus appears in I-City.[2] The monster wraps around a building and crushes it. The heroes Butterfly DX, Bone, and Death Gatling attempt to defeat the monster but fail.[3]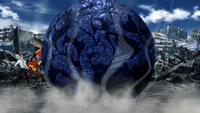 Several A-Class heroes arrive to fight the monster but are stopped by Flashy Flash, who runs past them and slashes the monster's eyes. His attacks agitate the monster, who thrashes around harder. Tatsumaki arrives and compresses the monster into a ball.[4]
Abilities & Powers
[
]
Hundred-Eyes Octopus was classified as a Demon-level threat, implying that it was a fairly powerful creature. It was able to fend off and overpower several A-Class and B-Class heroes until a pair of S-Class heroes defeated it.
Gyoro Gyoro also considered it to be a fairly strong monster.[5]
Physical Abilities
[
]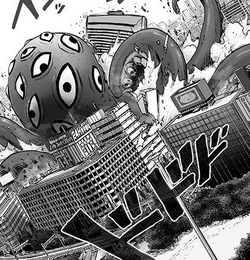 Physical Empowerment: By devouring concrete, Hundred-Eyes Octopus got bigger and stronger.[6]
Omnidirectional Vision: Given its many eyes, Hundred-Eyes Octopus had a 360° field of vision.[7]
Adhesive Suckers: Its tentacles are covered in adhesive suckers which it can use to stick to the ground. When Tatsumaki pulled the monster into the air, it was able to briefly hold on to the ground until the streets cracked.
Immense Strength: As a Demon-level threat plus its enormous size, Hundred-Eyes Octopus possessed great raw strength. It was able to bite through a building,[8] and easily crush buildings and heroes with its tentacles.[9]
Immense Durability: Hundred-Eyes Octopus had a tough hide which was able to withstand machine-gun fire without being injured.[10] Additionally, it was also able to stay alive after Flashy Flash sliced all of its eyes out, and it prompted Flashy Flash to use one of his special moves, which is impressive for a Demon-level monster.
Fighting Style
[
]
Mass Destruction: Hundred-Eyes Octopus used its gigantic tentacles to cause a great amount of destruction in a city.[11]
Major Battles
[
]
Trivia
[
]
Hundred-Eyes Octopus is a possible reference to the Hundred-Eyes Demon (百々目鬼, Dodome Ki), a famous yokai in Japanese lore with eyes all over its body.
References
[
]
[

]