— Nyan taunting the heroes.
Heroes vs. Nyan was the battle between several heroes and the Monster Association executive Nyan.
Prelude
[
]
Having retrieved Waganma from Child Emperor, the hero support team proceeds on their mission to escort the hostage back to safety. Along the way, they battle more forces from the Monster Association, defeating them easily despite injuries the heroes sustained in their previous battle.
Meanwhile, Nyan, having fled from his separate encounters with Puri-Puri Prisoner and Saitama, arrives on the surface and spots the support team, who likewise notice him.
Battle
[
]
One Shotter fires at Nyan, but the monster redirects the bullet and launches it back at the sniper, hitting his mechanical eye patch and incapacitating him. Nyan remarks on how weak the heroes are. He suddenly moves to the center of the group of heroes and slashes Gearsper, Needle Star, Jet Nice Guy, and Twin Tail before they can react. He recognizes Waganma as the child the Monster Association kept hostage. Sekingar, sensing Nyan's murderous intent toward the child, instructs Food Battler Futoshi to return to the Hero Association headquarters with Waganma. The remaining heroes prepare to fight the monster.
Mizuki removes the medal from her neck ribbon and uses it like a discus, launching it towards Nyan. At the same time, Green and Strange Binding Shell restrain the monster to prevent the monster dodging the attack, but the monster catches the disc with its teeth and shatters it. Poison tries to take advantage of the apparent immobility of Nyan and attacks the monster with his poison knife, hoping to nick its eye. However, Nyan manages to catch the blade with its eyelids and snaps the blade with a quick jerk of the head. Poison recoils in shock, and Feather and Shadow Ring move in to attack the monster with their clawed weapons.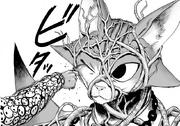 Before they can land hits on the monster, Nyan slips out of the bonds supposedly holding him in place, much to the surprise of Green and Strange Binding Shell. Nyan then attacks Feather, Shadow Ring, and Poison, shattering their weapons and slashing their bodies. Nyan proceeds to defeat the remaining heroes, then turns his attention to Futoshi and Waganma, who are fleeing from the monster.
Nyan beats the rest of the heroes and begins to pursue Food Battler Futoshi, but Mizuki rises once more to continue fighting. Nyan knocks Mizuki into the air, but Gearsper, his psychic abilities having finally activated, catches her and gently puts her on the ground. He then uses his powers to tear apart a very large number of buildings and launch the rubble at Nyan, burying him. With the last of his energy spent, Gearsper collapses.
Aftermath
[
]
All of the incapacited heroes are later carried by Genos from the battlefield to be hospitalized.
Trivia
[
]
References
[
]
[

]