Giant Salamander (大山椒魚, Ōsanshō̄o) was a Mysterious Being from the One-Punch Man OVAs. It was killed by Atomic Samurai.[1]
Appearance
[
]
Giant Salamander was a giant salamander monster with four red eyes and six legs. It had mostly dark green skin, with the lower half of his face along and entire stomach being mahogany. There were also many spots all over its body.
Appearances in Other Media
[
]
OVAs
[
]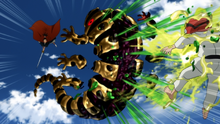 War Salamander is being pursued by Chain'n'toad and Mumen Rider, and it hides in a lake where Kamikaze and Bang are fishing. The two young heroes try to stop it, but fail, and Chain'n'toad is eaten by the Salamander. They are then saved by Atomic Samurai, who kills the monster and frees Chain'n'toad from its stomach.
Abilities and Powers
[
]
Giant Salamander was capable of easily toying with both Mumen Rider and Chain Toad. This was largely due to its physical strength and mobility in the water, where it intentionally led the heroes to gain the upper hand. Although he somewhat acknowledged Chain Toad's strength when the latter was able to briefly restrain the monster with his Kusarigama, once he got serious he was able to quickly dispatch the A-Class hero.
Trivia
[
]
References
[
]
[

]