— Genos after destroying G5.
Genos vs. G5 was the short battle between the S-Class hero Genos and the robot G5 of The Organization.
Prelude
[
]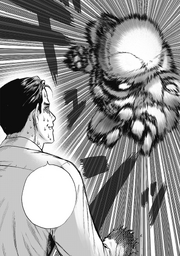 Having defeated Nyan, Drive Knight talks with Sekingar about the current situation and warns of a mole within the Hero Association. Sekingar phones the association to warn them but G5 appears and shoots his hand off. Its main body is barely functional, still heavily damaged from the battle with Atomic Samurai. Sekingar tells Drive Knight to defeat it, but the hero claims that he has no more energy left after his fight with Nyan. Sekingar prepares to attack G5 with his executive beam, but the robot reveals its core and jumps at the executive.
Battle
[
]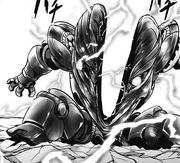 Soaring in the sky, Genos recognizes the energy signature and attacks G5 with his Jet Drive Arrow. The attack splits G5's core down the middle, and the hero remarks that this is an upgraded version of the last robot, but he has upgraded at a faster speed. G5's body then explodes, permanently destroying the robot and making Genos the victor.
Aftermath
[
]
Genos approaches Sekingar and Drive Knight and asks them about the situation. The cyborg hero then grabs Sekingar and the rest of the defeated heroes to take them to safety outside the battlefield.
[

]