Garou vs. Gyoro Gyoro was the battle between Garou and the military advisor of the Monster Association, Gyoro Gyoro.
Prelude
[
]
Garou is fighting Overgrown Rover when he is blasted by one of Rover's energy blasts and sent through several floors into the personal quarters of Gyoro Gyoro.
Gyoro Gyoro speaks to Garou, saying how he is impressed with his growth, but referring to him as a half-monster, and saying that despite not being a full-fledged monster, he still shows incredible resistance to Overgrown Rover's energy attacks. Gyoro Gyoro then rants about why Garou should still join him, and offers him a position in the Association again. Garou refuses, but Gyoro Gyoro retorts by saying the moment he caught his eye, he lost the right to refuse.
Battle
[
]
Garou viciously states that he hates assholes who look down from their perch more than anything, so Gyoro Gyoro states that those are big words coming from someone who can't move. The psychic monster uses his psychic powers to restrain Garou, proclaiming to Garou that his powers impinge on the domain of the gods, surpassing even Fubuki and Tatsumaki. But to his surprise, Garou is able to adapt to his psychic powers little by little, and Garou states that this is his fighting spirit, referencing Metal Bat's usage of the term.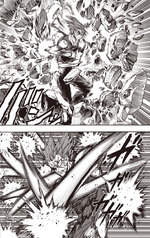 Gyoro Gyoro thinks to himself that Garou's adaptive abilities exceed the norm, so he launches multiple rocks at him in an attempt to restrain him, but Garou punches all of the rocks. The hero hunter then mocks Gyoro Gyoro by saying that the moment he started throwing rocks at him, his psychic binding came undone, specifically mocking his inability to multitask.
Garou jumps up onto a perch, meeting Gyoro Gyoro at eye-level, proclaiming that the idea of a lowly monster such as himself cultivating a genius like himself was ridiculous. Garou thinks out loud that if he defeats one of the heads of the Monster Association, the rest of the association would come crashing down with him. Garou prepares to resume their fight, but Gyoro Gyoro comments that with the heroes coming at his doorstep, he does not have time to waste stamina, so he calls upon Orochi to deal with Garou. Garou's eyes widen, and Gyoro Gyoro wishes Garou the best of luck as Orochi's hand erupts from underneath Garou and grabs the hero hunter, ending the battle between Garou and Gyoro Gyoro.
Aftermath
[
]
Shortly after, Orochi and Garou engage in battle. Gyoro Gyoro watches from the sidelines and comments on the battle several times.
Trivia
[
]
[

]