— Bomb confronting Garou.
Garou vs. Bomb is the battle between Garou and the master of the Whirlwind Iron Cutting Fist, Bomb.
Prelude
[
]
Following the destruction of the Monster Association Headquarters and the defeat of Psykos and Orochi, a battle between heroes and surviving monsters ensues in the remains of Z-City. While most of the heroes participate in the conflict, Fubuki stays behind under the protection of Bomb, in order to help any injured and keep a look out for Garou, whose whereabouts are unknown.
Meanwhile, Garou is still buried deep underground, reeling from the damage he sustained in his fight with Superalloy Darkshine. The pressure from his wounds combined with the force involved in Tatsumaki's telekinesis pushes Garou to the brink. In a moment of simultaneous weakness and triumph, Garou reconciles the intent of his existence, and rather than succumb to his injuries, he evolves once again, taking on a much more monstrous appearance.
As the battle between hero and monster rages on, Garou eventually breaches the surface. Bomb and Fubuki face down the hero hunter, and the former calls out to Bang, who starts making his way to the scene. Realizing there's no time to wait, the battle between martial arts master and prodigy begins.
Battle
[
]
Garou growls and leaps toward Bomb with a flying kick as his opening move, which Bomb is able to dodge. Bomb throws a counter punch and a series of kicks, and Garou likewise avoids being hit. Bomb laments having to face Garou alone, wishing that Bang would have the opportunity, but the old master is intent on defeating Garou by any means necessary, and says that he won't hold back. He uses his Whirlwind Iron Cutting Fist to destroy the ground beneath Garou, causing the hero hunter to leap away.
Fubuki watches the battle but is unable to see due to the speed of the combatants involved. She's caught off guard as Garou suddenly throws a fist toward her face, but Bomb intercepts the punch, ducks, and sends Garou flying with an attack of his own. He takes off after the still reeling Garou, bringing the fight away from Fubuki. When Garou recovers, he and Bomb trade blows, with neither possessing an obvious advantage until Garou manages to land a hit on Bomb's face.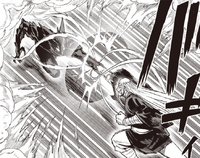 Bomb backs off and contemplates Garou's extremely rapid growth, noting the hero hunter's newly customized style which has fused every technique together, and questioning whether it came about due to monsterization. Even at a disadvantage, Bomb resolves not to go down until Bang arrives, and he prepares a powerful cutting move which he conceals behind his back. Striking the ground to disorient Garou, Bomb seizes the opportunity to launch his attack, but is shocked to find that Garou perfectly matches and cancels out the blow. With a single hit, Garou knocks Bomb to the ground.
Aftermath
[
]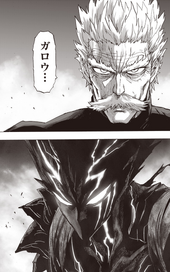 Bang arrives just in time to see his older brother defeated. Bomb calls out to Bang, warning him about Garou's extreme growth, and Bang remains stern in the face of his traitorous former disciple.
[

]