Fuhrer Ugly (ブサイク大総統, Busaiku Daisōtō; Viz: President Ugly) was an Ugmon and a Dragon-level Mysterious Being who was an executive member of the Monster Association. He was killed by Garou.[2]
Appearance
[
]
Fuhrer Ugly is a tall, obese, ugly man with grotesque facial features. He dresses in a dark middle school uniform, although the jacket is too small for his large belly. Fuhrer has a prominent outie belly button. His head is cone-shaped and mostly bald with a few rings of hair. He has a fat, stubby nose that is pointed upwards, drooping cheeks, large lips, and scuffed teeth. He is often seen with drool on his face or a runny nose, making him appear uglier.
Fuhrer Ugly is able to mutate his body and take on a larger form with longer and thicker limbs, an enlarged brain, and bulging veins and muscles. Because of his growth he's grown out of his clothing, having it still on his body but ripped.
After escaping the digestive juices of Gums, his body is now covered in vomit (referred to as Vomited Fuhrer Ugly) and became even more disfigured, his right eye drooping out of its eye socket and his face has partially melted revealing his gums and teeth.[4]
Personality
[
]
Fuhrer Ugly is filled with jealousy and self-hatred so much to the point where it turned him into a monster. His inferiority complex and ugliness makes him particularly hate good-looking opponents. This was shown when he met Sweet Mask, and he told him he hated Sweet Mask the most out of all the heroes of the Hero Association.
Like most of the other Monster Association Executives, Fuhrer Ugly holds no real camaraderie towards any of them and only works with them out of practicality to eliminate the heroes, though he does relate to their bloodlust and hatred, making a game with them that whoever kills the most heroes gets to lead. Despite this, he's proclaimed himself to be Monster King and holds himself above the rest of his fellow executives.
Fuhrer Ugly has demonstrated an intensely cruel and sadistic side of him befitting his status as a monster, gleefully smashing Sweet Mask's face in and ripping his lower body in half. During the battle against the heroes, he takes one of the mercenaries and mockingly states he'll give them back one piece at a time before ripping his arm off. Then, even after breaking both of Tanktop Master's arms, Fuhrer Ugly solemnly tells him none of them will get away before brutally smashing the defenseless hero into the ground, leaving him in a bloodied and near-death state. Fuhrer Ugly also despises someone who messes up his already ugly appearance, as after escaping Gums' stomach but ended up covering in vomit with his right eye damaged, he became shocked at his appearance before proclaiming it unforgivable.[5]
History
[
]
According to Sweet Mask, Fuhrer Ugly was originally an ugly human who had trouble in society due to his appearance, causing him to be filled with hatred and eventually become a Mysterious Being as a result of his heart being swallowed by darkness.
Plot
[
]
Fuhrer Ugly reads a book about popularity before the battle against the Hero Association. He, and several other monsters, is called upon by Gyoro Gyoro for a meeting.[6] He is seen feeling the shaking from Saitama's punch on Overgrown Rover.[7]
During the heroes' attack on the Monster Association Headquarters, Fuhrer Ugly emerges behind Sweet Mask while the latter is looking at himself in a large mirror, terrifying him and causing him to fall back. After knocking him back with a kick, Fuhrer Ugly states that out of all the heroes in the Hero Association, he hates Sweet Mask the most, and tells him that both of them make girls scream, but in different ways. The monster then goes on the offensive and engages a hard battle with him. In addition, during the battle, the hero cannot fight back, since it is impossible for Sweet Mask to properly move when ugly enemies are around, and combined with Fuhrer Ugly's impressive power, made it a battle Sweet Mask could not win. Later, Tatsumaki tracks the positions of Sweet Mask and the rest of the heroes using their transponder signals, and she protects him in a psychic bubble, floating him up away from Fuhrer Ugly and towards the surface of Z-City.
After Orochi and Psykos were defeated in their battle against the heroes, Fuhrer Ugly and several other executive members emerge from underground. While Black Sperm is restraining Sweet Mask, Fuhrer Ugly mocks the hero for acting so frightened after a small jumpscare, and proceeds to bash his face with his Face Caving Punch. He follows up by ripping Sweet Mask's lower body in half, laughing with sadistic joy and tossing him aside. Fuhrer Ugly then proposes a free-for-all, where the one with the most amount of S-Class kills gets to lead. The other executives agree, and he sets his sights on the other S-Class heroes in the vicinity.
Seeing Child Emperor dragging a broken Zombieman, Fuhrer Ugly rushes forward and steps on the undead hero's body. He speaks to Child Emperor, noting how nice it must be for him to be a spoiled brat with a future. While preparing to murder the child hero, he is intercepted by Homeless Emperor, who warns him to get out of the way before firing a massive energy sphere at Child Emperor with Fuhrer Ugly also standing in its path.
Fuhrer Ugly narrowly dodges the attack from Homeless Emperor, and yells at him for stealing his prey. The other executive replies to him that it was a free-for-all, and he is just following the law of nature and survival of the fittest. Fuhrer Ugly angrily asks if he wants to pick a fight, but then grudgingly decides to ignore him to focus on the other heroes, telling the others that once the race to murder the S-Class is over, he will be the Monster King.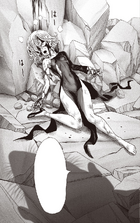 Fuhrer Ugly goes to the unconscious Narinki's Private Squad, then sadistically tears the arm off of one of them before preparing to crush him with a punch. However, Tatsumaki manages to restrain him before he can make contact, allowing Pig God to save all of the mercenaries. Fuhrer Ugly bulks his body up and breaks free of Tatsumaki's telekinesis, rushing towards Tanktop Master to meet the hero's Tanktop Tackle with his Forearm Caving Punch. Both of the hero's forearms are broken in the clash, and Fuhrer Ugly coldly states none of them will escape. He proceeds to ruthlessly beat Tanktop Master to a bloody pulp, and lets Gums eat the hero before setting his sights on the weakened Tatsumaki and approaching her.
Before he can get his hands on Tatsumaki, Bang and Genos arrive in time and distract Fuhrer Ugly by attacking Gums, with Bang piercing its body with a kick and saving Tanktop Master, who was inside Gums, and the cyborg following by incinerating Gums' insides. Fuhrer Ugly then focuses on Bang and attacks him with his Face Caving Punch while the hero is holding Tanktop Master, but Bang uses his leg to reflect his punch back at him, causing him to be struck by his own attack and knocked back. As the two heroes are about to leave after saving Tanktop Master, Fuhrer Ugly quickly gets up and attempts to attack Bang once again with his Dignity Caving Punch. However, the martial artist again manages to redirect his attack towards Gums, causing the latter to sustain damage instead and spit out Genos, who was attacked by it and was trying to escape its jaw. Bang immediately fights back, unleashing a series of strikes that knock Fuhrer Ugly back and heavily damage him. In retaliation, Gums also attacks Fuhrer Ugly, swallowing him whole as the gluttonous monster believes that he punched it on purpose. Fuhrer Ugly then rips Gums in half from inside, with his entire body dissolved by its stomach acid.
During the battle of the S Class heroes against Black Sperm, Fuhrer Ugly arrives in his mutated form and immediately demands to fight Silver Fang, whom he blames for his current horrifying state. Black Sperm teases him for his ugly state and Fuhrer Ugly angrily responds by shooting an acid spit on several clones of the monster which melts them to death. He then gets rushed by Superalloy Darkshine who attacks him with his Superalloy Double Bazooka, which Fuhrer Ugly counters with his own Forearm Melting Punch. Due to his strength and newfound abilities, the hero's attack is not only negated, but the acid on his body starts to dissolve Darkshine's hands despite the latter possessing incredibly tough skin. Fuhrer Ugly shoots an acid spit on Darkshine, which hits his chest and causes the hero to spin on the ground while suffering great pain from the acid.
Seeing what happened to Darkshine, Zanbai advises the others to not face Fuhrer Ugly empty-handed and charges at him with a sword, but the executive manages to catch his sword and the sword is instantly melted due to the super-powerful acid covering the monster's hand. Fuhrer Ugly retaliates against the swordsman by spitting acid onto his face, which melts through his head, killing him. As they are terrified by Fuhrer Ugly, Atomic Samurai and Nichirin attack him using their respective techniques, Atomic Slash and Iai Rahu-Ashura Slash almost simultaneously, only to see their own swords get melted by the acid covering his body and Fuhrer Ugly remains unharmed by their attacks.
With the pair distracted by their melting blades, Fuhrer Ugly attempts to kill both Atomic Samurai and Nichirin with his Full Body Melting Punch. As Spring Mustachio and Iaian rush to their masters defenses, Amahare sacrifices himself by rushing towards and kicking both Atomic Samurai and Iaian out of the way of the attack while Nichirin shoves his student away. Amahare is instantly killed by the acidic punch from Fuhrer Ugly, and Nichirin is mortally wounded, being dissolved from the waist down.
After such an attack, Fuhrer Ugly's body begins to fall apart, and he resorts to consuming the remains of Amahare, as well as the clones of Black Sperm he had spat upon earlier, to replenish his acidic form. Black Sperm objects to being eaten and threatens to kill Fuhrer Ugly if the latter continues to consume his clones. However; Fuhrer Ugly vomits acid on a number of clones, killing them and providing himself with further nourishment. Fuhrer Ugly responds to Black Sperm by saying that he will keep the clones around and use them as livestock so that he never runs out of protein to replenish himself and provokes the black monster to oppose him.
Upon being angered by Fuhrer Ugly's behavior and realizing that the heroes are largely distracted and weakened, Black Sperm merges a large number of his clones into Golden Sperm, who then attacks the fat monster for "crossing a line." Fuhrer Ugly attempts to fight back against Golden Sperm, but his acidic vomit is unable to harm the latter, who cites the anti-corrosive properties of gold as the reason why he is completely unfazed. Fuhrer Ugly quickly gets up but is suddenly assaulted by Homeless Emperor. He tries to retaliate against the other executive but fails as the latter counters his acidic attack with his energy sphere and proceeds to bombard him with consecutive energy orbs, severely wounding him. After managing to recover from the damage once again, Fuhrer Ugly leaves Homeless Emperor and Golden Sperm as he realizes he is being outmatched, but not forget to declare his revenge on them one day.
While leaving, Fuhrer Ugly vows to make the other monsters pay as he is trying to find Bang. As he is wandering around, he notices a massive explosion produced from the battle between Garou and Bang, and while initially confused, he then decides to head over the place. Fuhrer Ugly arrives at the scene, and is standing in front of Bang, who has been defeated and is no longer able to move.
Laughing, Fuhrer Ugly comments on Bang's sorry state and wonders if he has been taken down by Garou. He states that he was going to melt him slowly as originally planned, but decides to kill him with a solid blow. As Fuhrer Ugly is about to finish Bang off with his Full Body Melting Punch, he notices that Garou suddenly begins roaring and charging towards him, kicking a hole through his body before his punch could make contact with Bang. Having a hole through his body, Fuhrer Ugly is shocked at the fatal injury caused by the Hero Hunter shortly before collapsing and having his entire body melted away.
Abilities & Powers
[
]
As a high-ranked member and a Dragon-level Mysterious Being of the Monster Association, Fuhrer Ugly was an extremely powerful being. His strength was recognised by Sweet Mask, the top-ranked A-Class hero with S-Class abilities, upon facing him, albeit the hero was hindered by his incapacitating disgust towards ugliness.[citation needed] Fuhrer Ugly was even strong enough to completely dominate S-Class heroes powerful such as Tanktop Master, brutally beating him to a near-death state during their battle.[8] Additionally, after escaping Gums' stomach and gaining the ability to manipulate its powerful digestive fluids, Fuhrer Ugly has become even more powerful than previously, strong enough to not only seemingly match Superalloy Darkshine's strength, but even melt the S-Class hero's highly durable skin thanks to his acidic body.[9]
Physical Abilities
[
]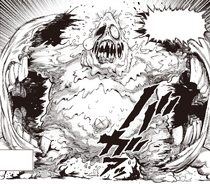 Immense Strength: As a Dragon-level threat, Fuhrer Ugly was inherently very powerful. He was able to crush Sweet Mask's skull with a single punch and tear him apart with apparent ease.[10] With a great deal of effort, he managed to break free of Tatsumaki's psychic hold, though she was in a severely injured and weakened state. Against Tanktop Master, an S-Class hero, Fuhrer Ugly was able to easily counter the hero's Tanktop Tackle with a single punch, breaking both of his forearms in the process and then brutally beating him to a near-death state.[11] Fuhrer Ugly was able to tear Sosshi's left arm off, despite the latter wearing the highly durable Battle Suit, like it was nothing.[12] His enormous strength was once again shown when he was capable of tearing Gums in half from the inside to break free after being swallowed by it, whereas Pig God could only escape by having the gluttony monster forcibly spit him out,[13] and even matching Superalloy Darkshine's Superalloy Double Bazooka with a similar type of attack of his own.[14]
Immense Speed & Reflexes: Despite his weight, Fuhrer Ugly is very fast. He was capable of moving and fighting at fast speeds, able to surprise Sweet Mask, the top-ranked A-Class hero with S-Class abilities.[citation needed] When Bang rescued Tanktop Master by kicking through Gums, Fuhrer Ugly instantly intercepted the hero in mid-air before he could begin to fall.[15]
Immense Durability: Fuhrer Ugly possessed a great deal of durability, as he was able to withstand being crushed under the Monster Association rubble. He also managed to survive the digestive juices of Gums, which can digest debris instantly, albeit greatly disfigured.
Enhanced Endurance: Fuhrer Ugly has shown to be able to endure great pain. Despite Garou ripping a hole through his body, Fuhrer Ugly showed no signs of pain, only expressing shock at the fatal injury shortly before dying.
Accelerated Development: Fuhrer Ugly's feelings of humiliation and misery increase his power and abilities over time as they intensify.[16] Despite being able to barely injure and overwhelm Sweet Mask with a barrage of punches when they first encountered each other, Fuhrer Ugly was later able to completely cave in Sweet Mask's face with a single punch in their next battle.[17] His emotions do not just boost his physical strength as Fuhrer Ugly remarked that his feelings of inferiority were making the digestive fluids coating his body even stronger.[18]
Transformation: Fuhrer Ugly possessed the ability to mutate his cells to significantly grow in size and become even stronger.[19]
Acidic Body: After being swallowed whole by Gums and breaking free, Fuhrer Ugly gained a defensive layer of digestive fluids over his entire body which he can use to enhance his attacks, and melt incoming attacks from his opponents.[20] Fuhrer Ugly could also project the digestive fluids through his spit or through an enormous stream of vomit, letting him hit his targets from a distance.
Regenerative Healing Factor: Fuhrer Ugly possessed tremendous resilience and ability to recover from damage; constantly regenerating from having his body bathed in acid by melting and then swelling his body up again to stay alive.[20] Despite being severely injured by Homeless Emperor's Straight Line Bombardment, Fuhrer Ugly recovered just moments later.[21] Though it's shown that his regeneration is incapable of sustaining his acidic form for long unless he replenishes himself with food.[22]
Fighting Style
[
]
Hand-to-Hand Combatant: Fuhrer Ugly referred to his fighting style as Extreme Violence (超暴力, Chō bōryoku; Viz: Brute Brutality).[23] He mainly relied on his brute strength and skill in close-quarters combat during battles. Based on Drive Knight's data, Fuhrer Ugly could see through his opponents and determine the attacks they feared the most, and he also used relentless violence and swearing to destroy people both physically and mentally.[24] Unlike martial art styles, there was little to no technique behind his attacks, as they simply consisted in very powerful attacks, taking advantage of the immense brute strength Fuhrer Ugly developed as a monster. Aside from the general objective of damaging his opponents physically and mentally, it is unknown if Fuhrer Ugly's moves were improvised or planned. Most of his attacks were accompanied by insults and sarcastic comments, which aimed to increase the monster's rage towards an opponent as well as negatively affect the opponent mentally. After gaining an acidic body, Fuhrer Ugly augmented his brutal fighting style by using physical attacks that could melt his opponents as well as crush them.
Major Battles
[
]
| Participants | Chapter(s) | Episode(s) | Result |
| --- | --- | --- | --- |
| Fuhrer Ugly vs. Sweet Mask | 113, 123, 127, 130 | None | Interrupted by Tatsumaki |
| Monster Association Executives vs. Heroes | 139, 143, 144, 145, 146, 147, 148, 149, 150, 151, 152, 153, 154 | None | Interrupted by Garou |
| Monster Association Executives vs. Garou | 154 | None | Fuhrer Ugly is killed by Garou |
Quotes
[
]
(Claiming to be the Monster King) "Just remember! After we kill da heroes, I'm da new Monster King."[31]
Trivia
[
]
Fuhrer Ugly is seen reading the book, 10 easy ways to become popular (簡単にモテる10の方法, Kantan ni moteru 10 no hōhō; Viz: Professor Charisma's 10 Steps To Getting Girls), a book about becoming popular to girls.[33]
Fuhrer Ugly's death by Garou is similar to a scene from the Hokuto no Ken series, which a character named Shin uses the Nanto Koshu Ken (Dipper Lone Eagle Fist) to kill a giant man by kicking through his body.
References
[
]
[

]