Frog Man (カエル男, Kaeru Otoko) was an artificial mutant created by Dr. Genus of the House of Evolution. He was killed by Beast King.[2]
Appearance
[
]
Frog Man was a humanoid frog. He had large eyes, a white stomach and throat, black spots on his back and arms, and a scar that ran across his face. He wore a wide belt with a tanto stuck through it, black pants, sandals, a pendant necklace and had the kanji for "rearguard" tattooed on his left shoulder.[3]
Personality
[
]
Frog Man was planning to execute all of mankind using the short sword he was so proud of.[1]
Plot
[
]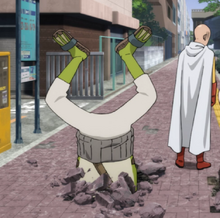 Frog Man is a part of the squad sent to capture Saitama. Shortly after one of the group, Kamakyuri, is killed, Saitama and Genos leave the apartment and Saitama shoves Frog Man and Slugerous headfirst up to their waists.[3]
He was later shown again when Saitama and Beast King are fighting and was ripped to shreds by Beast King's attack.[4]
Abilities and Powers
[
]
Nothing is known about Frog Man's abilities due to his quick defeat by Saitama and eventual death at the hands of Beast King, but since he was classified as a Tiger-level threat it can be assumed that he was a danger to the lives of a great number of people.
Fighting Style
[
]
Swordsman: Given his choice of weapons, Frog Man likely had some swordsmanship skills.
Equipment
[
]
Tanto: He was seen with a tanto. It has a simple wooden hilt and sheath.[3]
Major Battles
[
]
References
[
]
[

]