Evil Natural Water (エビル天然水, Ebiru Tennensui) is a Dragon-level Mysterious Being and an executive member of the Monster Association.
Appearance
Edit
Evil Natural Water is a huge mass of clear water with a pair of eyes floating inside and several fish as well. It can freely change its shape, meaning it has no true state of being. The size of the eyes enlarge as Evil Natural Water obtains more water.
Personality
Edit
Due to it having no real consciousness, Evil Natural Water is difficult for others to handle as even Gyoro Gyoro had trouble dealing with the monster, so much so that Gyoro Gyoro had to lock it in a vault. It is regarded as the most mysterious member of the Monster Association.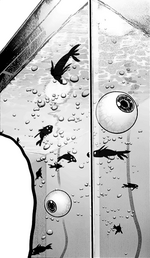 It is one of the heads of the Monster Association and first seen being contained in a fish tank. It is seen feeling the shaking from Saitama's punch on Overgrown Rover.[1]
Sometime during the raid on the Monster Association, Atomic Samurai's three disciples follow a wounded monster to a vault with a water tank containing Evil Natural Water. The monster unleashes Evil Natural Water, along with the Mad Doctor Fish swimming inside it, in a last-ditch attempt to get back at the disciples. The Mad Doctor Fish devour the monster and are killed by the disciples, and Evil Natural Water subsequently attacks them. Iaian notes that the battle situation is hopeless as their master has yet to teach them how to cut water.
Then, when Child Emperor finds the three of them, Iaian warns Child Emperor that Evil Natural Water is still nearby. The monster fires a sharp burst of water, although Child Emperor narrowly dodges the attack.
Abilities and Powers
Edit
As a high-ranked member and a Dragon-level Mysterious Being of the Monster Association, Evil Natural Water is an extremely powerful being. Gyoro-Gyoro fears it enough to keep it locked in a vault.
Physical Abilities
Edit
Liquid body: Evil Natural Water's body is made entirely out of water and has no vulnerable internal organs or weak points to target, thus making it almost impossible to deal damage to the creature. Evil Natural Water's body allows several Mad Doctor Fish to reside in it and act as a secondary force. Iaian notes that they are not much of a problem to deal with.
Shapeshifting: Due to its entire body being composed of water, Evil Natural Water has great control over its own form.
High-Speed Jet Streams: Evil Natural Water is capable of firing devastating high-speed jets of water in an instant. The jets of water are significantly faster than bullets, fast enough to be almost impossible to track and predict, and have an even higher penetrating power, able to easily cut Iaian's katana.
Major Battles
Edit
References
Edit
↑ One-Punch Man Manga; Chapter 106, page 26
Community content is available under
CC-BY-SA
unless otherwise noted.