Evil Natural Water (エビル天然水, Ebiru Tennensui, Viz: Evil Mineral Water) is a Dragon-level Mysterious Being and an executive member of the Monster Association.
Appearance
Edit
Evil Natural Water is a huge mass of water with a pair of eyes floating inside. It can freely change its shape, meaning it has no true state of being. Its eyes grow as it gains more water.
After absorbing the oil of Sludge Jellyfish, it becomes more viscous, able to take on a more globular shape.
Personality
Edit
Evil Natural Water is the most mysterious member of the Monster Association.[1] It is a mindless monster and hard to control; Psykos secluded it in a vault to control it. Despite its seemingly mindless nature, it does have some form of thought process, as it knew to absorb the oil in Sludge Jellyfish to resist Child Emperor's freezing attacks.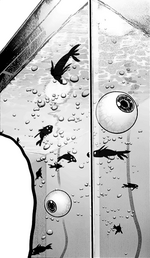 Evil Natural Water is one of the executives shown when Sludge Jellyfish talks about the Monster Association executives. It is later seen feeling the shaking from Saitama punching overgrown Overgrown Rover.[2]
Sometime during the raid on the Monster Association, Atomic Samurai's disciples follow a wounded monster to a vault with a water tank containing Evil Natural Water. The monster breaks the tank and unleashes Evil Natural Water, along with the Mad Doctor Fish swimming inside it, in a last-ditch attempt to get back at the disciples. The Mad Doctor Fish turn on the monster and devour him. Evil Natural Water launches several fish at the disciples, but Iaian swiftly cuts them down. The monster then attacks the disciples with its water jets. Iaian, unable to cut the water, sees the battle situation as hopeless.
Later, Child Emperor finds the three disciples lying defeated. Iaian warns Child Emperor that Evil Natural Water is still nearby. The monster fires a sharp burst of water, and Child Emperor narrowly dodges the attack. Child Emperor quickly turns the tables by flash freezing Evil Natural Water using his Block Snowman robot, making the monster unable to shoot its water jets.[3]
Sludge Jellyfish enters the room, offering to assist Evil Natural Water. Evil Natural Water reaches a water arm at the monster and sucks up the oil in his body, rendering Child Emperor's freezing attacks ineffective. It shoots a jet of water at the hero that pierces his leg and breaks apart his robot.[4]
Evil Natural Water is later seen engulfing Child Emperor, who frantically resists drowning.[5]
Abilities and Powers
Edit
As a high-ranked member and a Dragon-level Mysterious Being of the Monster Association, Evil Natural Water is an extremely powerful being. Gyoro Gyoro fears it enough to keep it secluded in a vault, and after being freed it proved to be strong enough to easily defeat three of the top A-Class heroes; Iaian, Bushidrill and Okamaitachi.
Freezing Resistance: After absorbing the oil from Sludge Jellyfish, Evil Natural Water's body has a much lower freezing point than water, allowing it to resist being easily frozen.[7]
Hyper Instincts: While a formless effigy acting purely on animalistic guile, at first glance Evil Natural Water seems like a simpleminded mysterious being. In truth, however, it possesses an underlying intuition to adapt and modify itself along with its approach to a target. An example of this is absorbing the fuel oil from Sludge Jellyfish for the purpose of bypassing being frozen.[8]
Major Battles
Edit
References
Edit
Community content is available under
CC-BY-SA
unless otherwise noted.