Earth
(地球,
Chikyū
) is the planet on which most of
One-Punch Man
takes place.
[1]
Although the planet largely resembles the real-world
Earth
, it possesses some distinctive differences.
Description
Edit
The Earth, unlike its real-world counterpart, possesses a single super-continent instead of multiple large landmasses. The continent has 26 cities, each identified by a letter of the modern English alphabet.
In addition to the supercontinent covering most of the planet, it possesses smaller islands and landmasses that lie in its immense ocean.[2]
The "seven faced islands" contain potatoes.[3]
In the anime, Earth was shown to have four natural satellites instead of a single moon.[4]
Inhabitants
Edit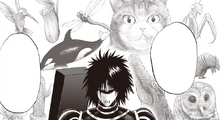 Humans are the dominant species of Earth. The planet is also home to multiple species of plants and animals. Unclassified creatures are grouped into a category of beings called Mysterious Beings. This category also includes non-human races, such as the Subterranean People, the Skyfolk, the Seafolk, and the Terror Lizard Clan.
Locations
Edit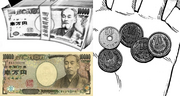 The shape of the planet's supercontinent is the same as the Saitama Prefecture in Japan.[5] This is the prefecture that One-Punch Man author ONE was brought up in.[6]
The currency of the world is nearly identical to the real-world Japanese yen. The 10,000 yen note (the only banknote shown in the series) features the face of a ball-chinned man (possibly an ancestor of Agoni and the Ball-Chinned Kid) instead of Fukuzawa Yukichi.
References
Edit
Community content is available under
CC-BY-SA
unless otherwise noted.