Child Emperor vs. Sludge Jellyfish was the battle between the S-Class hero Child Emperor and the Tiger-level mysterious being Sludge Jellyfish of the Monster Association.
Prelude
[
]
Child Emperor fills the prison cell Waganma is being kept in with poison to immobilize the monsters keeping watch. He uses gas masks on himself and the hostage. However, Sludge Jellyfish is revealed to be immune to poison as he appears on the ceiling.
Battle
[
]
Sludge Jellyfish oozes from the ceiling and uses his Sludge Press in an attempt to squish and poison the young hero. However, Child Emperor manages to put up a shield to protect himself from the attack, also noting that Sludge Jellyfish was immune to poisons.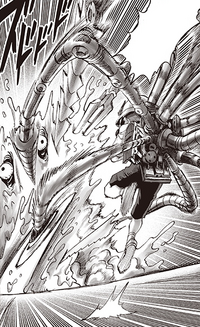 Child Emperor takes a tool out from his backpack, and it is revealed to be a sword enveloped with energy. The young hero proceeds to hack and slash at Sludge Jellyfish, but his homogeneous body allows him to remain unaffected by the paring. Several sharp tools and drills stem out of the hero's backpack and stab at the monster, but he is still uninjured. Sludge Jellyfish proceeds to mock Child Emperor's ineffective weaponry, saying the hero has no means of killing him. He then gloats to himself, remarking that luck is on his side and that he is taking the head of an S-Class hero with ease.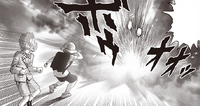 However, as he is confidently monologuing, Child Emperor injects a hose into his body. Sludge Jellyfish asks what is in the hose, and Child Emperor replies that it is liquid fuel. He quickly proceeds to light a match and throws it at Sludge Jellyfish. In an instant, the Tiger-level monster is seemingly vaporized, marking Child Emperor as the victor.
Aftermath
[
]
Child Emperor and Waganma escape after Sludge Jellyfish is incapacitated, but their path is blocked by G5.
Sludge Jellyfish later reappears in Child Emperor's fight with the Monster Association executive Evil Natural Water and is promptly absorbed by the executive.
[

]