This article is about the chapter. For the character, see Deep Sea King.
"Deep Sea King" (深海王, Shinkaiō, Tonari: 30) is the 24th chapter of the One-Punch Man manga series.
Summary
[
]
The chapter begins with a city alarm announcing that the disaster level of the Seafolk invasion has been raised to Demon. In addition, the citizens are advised to evacuate the city. The Deep Sea King continues to walk through the city. Lightning Max is seen observing the Sea King from afar. The Deep Sea King then suddenly appears behind Lightning Max and their fight initiates. During the fight is overwhelmingly one-sided and Lightning Max ends up losing. Puri-Puri Prisoner comes in time to save Lightning Max from being crushed by a collapsed building. It is revealed that Speed-o'-Sound Sonic has followed Puri-Puri Prisoner and Sonic thanks him for allowing him to escape.
Characters in Order of Appearance
[
]
Chapter Notes
[
]
The online version of the chapter originally had a double-spread for pages 48-49. It was later replaced by two double spreads covering pages 48-49, and 50-51.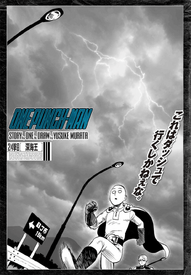 [

]