Gluttony (食い意地, Kuiiji, Tonari: 150) is the 111th chapter of the One-Punch Man manga series.
Summary
[
]
Revised Version
[
]
A monster watches in horror as Pig God devours his monster comrades after mistakenly thinking that the hero would have been a good feed for them. Pig God grabs the monster and puts it into his mouth as it screams desperately. Gums then sneaks up from behind Pig God and swallows the hero. Pig God struggles to escape, and Gums is forced to spit him out. The two engage in battle.
Old Version
[
]
Various monsters find that their attacks on Puri-Puri Prisoner have no effect regardless of their variety and are shocked, expressing their disbelief at the hero's durability. Puri-Puri Prisoner explains to them that embracing the pain with love allows him to take those hits. He dubs his power Angel ☆ Hug. Realizing their strength wouldn't be enough, the monsters flee only to be stopped by the Demon-level monster, Vacuuma, who inhales the fleeing monsters, absorbing their powers.
Vacuuma then fires a variety of attacks at the hero but Puri-Puri Prisoner remains undeterred. The monster mocks him at his twitching but Puri-Puri Prisoner reveals that it was the creation of his new style of fighting, Vibration ☆ Angel. The hero completely smashes through Vacuuma and ends the monster's life.
Soon after, Puri-Puri Prisoner hears the voices of the monsterfied inmates and expresses dismay at his inmates predicament. Believing the inmates to be forced to do the Monster Association's bidding, he vows to save them. The inmates attempt to explain their hatred to Puri-Puri Prisoner but he continually ignores it. Nyan then interjects and says that once a human becomes a monster, they will never turn back before slashing Puri-Puri Prisoner, severely injuring him, and leaving the rest to the inmates. Puri-Puri Prisoner stands strong, however, and declares that as long as the heart is human then they will always be human.
Puri-Puri Prisoner discovers that his body is covered with hair which acts as a shield and dubs it, Angel ☆ Bristle Armor. Nyan, disturbed by Puri-Puri Prisoner's strange personality, decides to leave him to the other cadres and escapes through a narrow crack. Puri-Puri Prisoner gives chase after thinking up a new technique, Angel ☆ Crawl, but accidentally crushes his fellow inmates in debris, killing almost all of them. He loses his armored hair and accepts their sacrifice by avenging them, much to the annoyance of the remaining living disembodied head of one of the inmates.
Characters in Order of Appearance
[
]
Chapter Notes
[
]
This chapter interchanged with a different chapter. The chapter was originally Love Revolution (ラブレボリューション, Rabu Reboryūshon), which was moved to Chapter 112.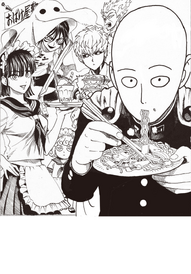 Trivia
[
]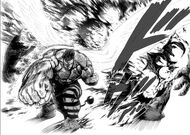 Originally, Puri-Puri Prisoner's sweater and part of his prison outfit were removed as he killed Vacuuma with his Vibration Dark ☆ Angel ☆ Rush, only for those clothes to somehow regrow in the next page. When Yusuke Murata realized this, he went back and drew the clothes in.
[

]