C-City (C市, C Shi) is a large city on Earth. It consists of a super stadium.
There are at least 16 heroes living in this city.[1]
Locations
[
]
A public stadium for competitions like the Super Fight Tournament.
Inhabitants
[
]
Heroes
[
]
Number of Heroes by Class:[1]
Monsters
[
]
Plot
[
]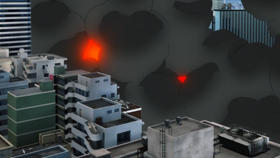 Saitama enters the Super Fight tournament in the Super Stadium disguised as Charanko to learn more about martial arts. Fellow heroes Lightning Max and Sneck also join the tournament. The tournament is won by Suiryu.[2] Meanwhile, Genos defeats 7 monsters including Face Ripper and Awakened Cockroach but is severely damaged in the process. He is then blitzed by Gouketsu who is on his way to the Super Fight venue.[3]
References
[
]
[

]