One-Punch Man Monster Profile: Black Sperm
Play Sound
This article is about Black Sperm. For the fusions of trillions of cells, see Golden Sperm and Platinum Sperm.
Black Sperm (黒い精子, Kuroi Seishi; Viz: Black Spermatozoon) is a Dragon-level Mysterious Being and an executive member of the Monster Association.
Appearance
[
]
Black Sperm is an odd-looking humanoid monster of diminutive stature. He has a completely black body and a pale, white face with black eyes and a tail-like protrusion on the top of his head. He is often portrayed in a more simplistic style than the other characters, reminiscent of ONE's original webcomic.
Personality
[
]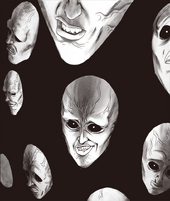 Black Sperm is an arrogant yet insecure monster. He is very confident in his abilities, shown in his willingness to take on Monster King Orochi,[5] but he dislikes when other people "look down on him" for his appearance or personality, and if he senses that someone is doing so, he becomes furious.[1] At the same time, he is willing to work with others in order to take on a stronger opponent, shown by his cooperation with the Monster Association.
Black Sperm also shows great anger if his clones are killed.[6][7]
During the battle against the heroes, Black Sperm shows impatience and anger when his enemies are effectively fending off him such as Superalloy Darkshine and the Council of Swordmasters.[8] However; he still remains confident and sadistic when gaining the upper-hand against Genos.[9][10] When facing King, Black Sperm is unwilling to aid Homeless Emperor and stays on his guard, fearing that the S-Class hero might strike him if he loses his focus.[11] Black Sperm also feels great sorrow and joy at the same time when Platinum Sperm is born as a result of 53,999,999,999,900 of his cells being sacrificed, expressing that while those huge amount of cells are disappearing into nothingness, that also marks the birth of his real self.[12]
Abilities and Powers
[
]
As a Dragon-level Mysterious Being and an executive member of the Monster Association, Black Sperm is an extremely powerful being. He was able to easily overwhelm the S-Class hero Atomic Samurai during their battle due to his abilities being the perfect counter to the hero's fighting style.[1] Furthermore, Black Sperm is capable enough to cause Psykos to remark that if he and Homeless Emperor team up together, they can defeat anyone.[13] According to Homeless Emperor, a single Black Sperm clone is strong enough to easily defeat an A-Class hero.[14]
Physical Abilities
[
]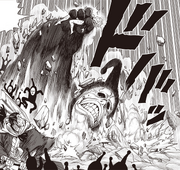 Immense Strength: Contrary to his appearance, Black Sperm possesses great strength. A single copy was strong enough to significantly injure Atomic Samurai, an S-Class hero, in one hit, and with overwhelming numbers of copies, he was able to subdue the powerful swordsman in no time during their battle.[1] In his larger state, he has shown capable of restraining Sweet Mask, the top-ranked A-Class hero with S-Class capabilities,[15] and embedding Genos into the ground with a single strike.[16] Smaller copies of himself are even able to tear off Genos' limbs.[17][18]
Enhanced Speed and Reflexes: Black Sperm possesses impressive speed and agility, as demonstrated when a copy of himself managed to react to and dodge an air slash from Atomic Samurai, prompting the swordsman to remark that he was a swift monster.[19] Additionally, a Black Sperm clone, consisting of only 100 cells, was also fast enough to swiftly evade several swings from Metal Bat.[20]
Shapeshifting: Black Sperm is able to increase in size and manipulate his body shape in any way he chooses such as manifesting multiple heads or limbs.
Replication: Instead of being killed, whenever he is dealt a fatal blow that would typically result in death, Black Sperm will split into even more copies of himself if he still has enough cell stock.[1] He can also split himself at will.[22][23] However, he is still susceptible to attacks that do not immediately cut him to pieces, such as blunt force[24] or acid attacks.[25]
Regeneration: Black Sperm possesses a unique regenerative ability; as his body is formed from vast numbers of copies of himself working together, any damage he sustains will reduce his total count but his body is able to fully regenerate so long as he has reserves. Even if he is cut to pieces, his severed body parts will reform into more copies of himself.
Fighting Style
[
]
Proficient Hand-to-Hand Combatant: Black Sperm often relies on brute strength and overwhelming numbers to defeat opponents. However, according to Drive Knight, he is a highly skilled combatant.[26]
Sperm Tsunami (精子津波, Seishi Tsunami; Viz: Spermatozoon Tsunami): Black Sperm rapidly splits up to overwhelm and crush his opponents.[27]
Coalescence (合体, Gattai): Black Sperm irreversibly combines his cells to form a more powerful version of himself. The more cells he combines, the stronger and more arrogant the created version of himself will be.
Golden Sperm (黄金精子, Ōgon Seishi; Viz: Golden Spermatozoon): A mass fusion consisting of a stated 43 trillion of cells[28], though it's implied to actually be 55 trillion because Atomic Samurai cut off Golden Sperm's right forearm that was said to made of 12 trillion,[29] which he had not recovered or regenerated at the time of the stated former number or when fusing in Platinum Sperm[30] (The form was 9 trillion 999 billion 999 million 999 thousand 999 ones total in the original webcomic[31]). It has a large and extremely muscular physique, displayed with an overpowering golden shine.[32]
Platinum Sperm (白金 精子, Puratinamu Seishi): A mass fusion made of a total of 53 trillion 999 billion 999 million 999 thousand 900 cells.[33] It is even shinier than Golden Sperm and has a somewhat slimmer and more agile build.
Quotes
[
]
Trivia
[
]
He makes a cameo appearance in Monster of Earth.
Although Black Sperm does not combine into Multi-Cell Sperm (多細胞精子, Ta Saibō Seishi) in the manga, he mentions that an incomplete fusion of cells would not be enough to take on the S-Class heroes.[42]
Black Sperm's cell count is the subject of speculation. In the original webcomic, when he confronted King, Black Sperm had 11 trillion 449 billion 1 million 712 thousand 554 cells before transforming.[43] In the manga adaptation, Black Sperm has many more cells, using almost 54 trillion cells total by the time he forms Platinum Sperm.[44] In both cases, Black Sperm himself is left with only 100 remaining cells in the aftermath. His total cell count at his introduction cannot be determined, as an unknown number were presumably destroyed during Black Sperm's previous battles with other heroes.
References
[
]
[

]