Black Roast (ブラックバイセン, Burakku Baisen; Viz: Dark Roast) was a Tiger-level Mysterious Being. He was killed by Air.[1]
Appearance
[
]
Black Roast was a humanoid monster with a coffee cup head and wears a black shirt with the words "I ♥ COFFEE" written on it.
Appearances in Other Media
[
]
Omake
[
]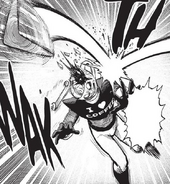 Black Roast suddenly appeared in Z-City, near a gray apartment complex, attempting to take over humanity by abusing their coffee addiction. He was confronted by A-Class heroes and easily beaten in a single strike by one of them, Air.
Abilities & Powers
[
]
As a Tiger-level monster, it can be assumed that Black Roast was fairly powerful, although Air, an A-Class hero, killed him with one blow.
Concentrated Caffeinated Breath: Black roast can use a caffeinated breath from his mouth that can make people unable to sleep.
Reference
[
]
[

]